AT THE LABORATOY WE PROVIDE THE FOLLOWING SERVICES:
Double-basses estimate.
Authenticity Certifications.
5 years warrantied vacuum woodworm treatments.
Double-basses rental, 7 days max (only if they're available)
The laboratory guarantees top security for your intruments: armoured closet, warning system, safety glass windows, insurance policy at
ASSIMUSICA
.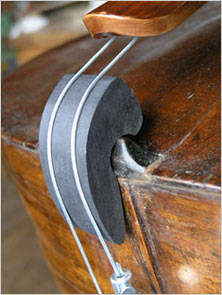 RAISE SADDLE - BY SCARAMELLI
It's useful to lower the bridge pressure on the soundboard.
The average weight of the strings on the soundboard is about 171.6 lbs(78 Kilos). The raise saddle can reduce the pressure by about 3.3 - 4.4 lbs (1.5 - 2.0 Kilos). It comes in useful only if the soundboard is overcharged. What you get is: a softer string and a harmonic-rich sound.
The raise saddle is made from ebony wood by Bogaro & Clemente in Monfalcone (Trieste, Italy).
This device dates back to 1980.
Available on request.