The current production includes the following models: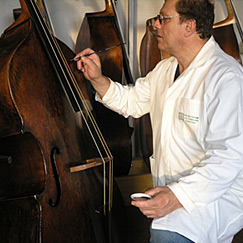 Watch the video "Varnishing a doublebass"
The woods used for the construction are:
For the soundboard: red spruce from Val di Fiemme and red spruce from Valcanale (Italy).
For the back, ribs and neck: white poplar from Emilia Romagna and maple from the former Yugoslavia.
All models are personal, inspired by "Emilian School" (Soffritti, Gotti, Marconcini,Cavani...).
All of them are naturally seasoned for at least fifteen years.
The construction is totally handmade; maximum quality oil varnish is brush applied. All the accesories are first quality.
Every instrument will be accompanied by a certificate of origin, photographed and catalogued in my own archive (all these requirements are needed to prove the instrument's authenticity).
Every instrument is sold with a 30 days trial period.
Watch the firebrand in the following video and pictures:
MANUFACTORING DETAILS