Domenico Dragonetti's Gasparo da SalÚ Doublebass
Full Size Poster (1:1 ratio)
OUT OF STOCK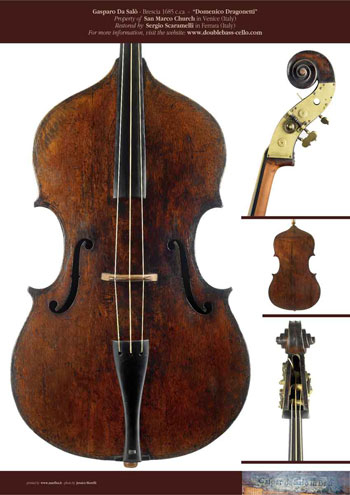 Sticks and nails included in the poster tube.
The poster is available at the price of € 27,00 + shipping.
Shipping fees: Italy €8,00 - Germany, Austria, Belgium €13,00; Netherlands, United Kingdom, Spain, France €14,00; Denmark €23,00; Finland €27,00; Norway €53,00.
For other countries in EU or outside EU: ask for info before ordering.
Please send your request and personal details to info@contrabbassi.it
(Provide your tax code only if you are ordering from Italy)
Profits will be donated to charity.
PAYMENT METHOD
Bank transfer to the following Ing Direct Bank account:
IBAN IT76O 03475 01605 CC001 0015259
BIC INGBITD1
Account name: Scaramelli Sergio.
Orders will be shipped on Monday only.
INSTRUMENT DETAILS
PRINCIPAL DIMENSIONS
Body Dimensions:
Back length: mm 1143.0
Upper Bout width: mm 554.5
Middle Bout width: mm 426.5
Lower Bout width: mm 686.0

Rib length
At neck: mm 154,0
At endpin: mm 232.0

F-holes
Between upper circles: mm 211.0

Datable to the last quarter of the 16th century, this extraordinary bass is one of the most celebrated and historically important of its kind. Its overall size, widely placed upper corners and broad curves present an imposing aspect. Gasparo was seemingly one of the first to build a contrabass of such dimensions with pointed "violin" corners and edges that exceed the rib outline.
The widely set soundholes suggest that Gasparo intended a six-string instrument, though the "Dragonetti" now bears a replacement head that Dragonetti commissioned from the Venetian violin maker Giovanni Battista Bodio in about 1824. By the terms of his will, the instrument was left to the Procuratoria di San Marco, Venice, where it has been conserved for more than 150 years.
The dendrochronology examination performed during the June 2007 exhibition dated the left side of the table to the year 1517 and the right side to 1530.


MEASUREMENTS

2. Domenico Busan - Full Size Poster (1:1 ratio)
OUT OF STOCK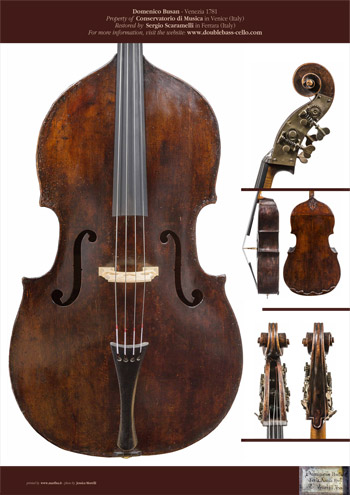 For prices and payment methods see the previous poster.

Profits will be donated to charity.
INSTRUMENT DETAILS
The belly is made of red spruce, slightly tapped, with a normal, even veining and side joints.
The back and side are made of medium flamed maple of Balcany, with high-quality side joints.
The walnut neck was originally three strings. The mechanic, an example of excellent craftmanship, was replaced in the first half of 1800.

Copyright © by Sergio Scaramelli